Kitchen Remodeling Coral Gables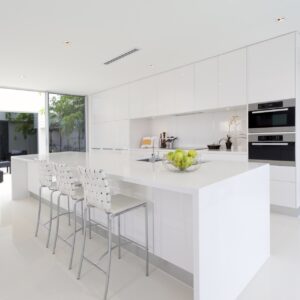 The kitchen is the most important room in a home. It is where you store and prepare the food that you need to thrive. It is also a place where the whole family can gather to share a meal and the details of their day.
If you are thinking of remodeling your kitchen, you want to create a space that is easy to navigate, well lit, and contains the latest appliances. You want to add resale value to your home, but you also want to make sure that the room reflects the style and personality of your family.
Given all the mechanical appliances and the plumbing work that goes into a kitchen, the thought of remodeling can be rather overwhelming. Unless you have advanced electronic and plumbing skills, remodeling a kitchen is not a DIY project; you will need a general contractor.
Our team of trained renovation professionals knows exactly how to create the ideal kitchen for you and do so in a timely fashion.
How the Process Works
When you call us for a consultation about your kitchen remodeling project, the first thing we will do is talk to you about your needs and your aesthetic sensibilities. Are you a gourmet cook who wants a kitchen island and plenty of counter space, or would you rather have your kitchen designed with speed and convenience in mind?
We will show you conventional designs as well as the latest innovations. We will also make sure to use sturdy materials that will last a long time. We offer the very best prices on these materials.
How long does kitchen remodeling take?
Every kitchen is different, but it normally takes around 10 to 12 weeks to finish this complex room. We will do our very best to work around your schedule.
Although it may seem like a hassle, a kitchen remodel will add value and comfort to your home. The thought of undertaking such a major project might seem a bit overwhelming, which is why it can be helpful to know the steps we will take when we create your fabulous new kitchen.
1. Initial Consultation
We can meet with you on the phone, in person, or online. We will discuss your specific needs and present you with a variety of floor plans, fixtures, and appliances. Once we know exactly what you want, we will give you a quote. We will then set a date to begin work on your kitchen.
2. Tear Down
The first thing we must do is demolish the old kitchen. We will tear out anything we intend to replace. This may include walls, floors, fixtures, cabinets, or more. Some people try to save money on their remodel by doing this themselves.
Although this part of the process may seem easy, you can damage plumbing and electronic equipment if you do not know what you are doing. It is best to leave this job to the trained contractors we employ.
The demolition stage can make a mess, and it is noisy, so you will want to let your homeowner's association know your plans. Your local municipality may require permits for your work.
3. Installation of Walls and Plumbing
The next thing we will do is build the frames for the walls of your new kitchen. We will also install any wires or pipes that will need to go inside of the walls. This stage is the most complicated as we may have to reconfigure the plumbing in your home.
After we finish installing any new electrical wiring or plumbing, an inspector from the local government is likely to come by and look over our work. We will try to arrange for this well in advance, so we do not have to delay the remodeling to wait for them.
4. Hang Drywall and Install Doors
At this stage, we will put walls on the new frames. We will hang drywall to accomplish this. We will also take care of any drywalling that is necessary to build the countertops.
If you are completely changing the structure of your kitchen, the location of the doors and windows may need to be adjusted at this point. If your remodel requires new doors and windows, this stage may make the project take a bit longer.
5. Plumbing Fixtures
This is the stage where we will install your new state-of-the-art plumbing fixtures. The room will start to look like a kitchen when we put the fixtures in. We will install the sink as well as the tile on the countertops.
6. Appliance Installation
This is one of the last steps in our entire process, and you will start to get a good idea of what your new kitchen will look like. We will install the stove, refrigerator, and dishwasher at this point. This is a good stage to install a water filtration system and any luxury appliances you might select.
7. Floor Installation
Kitchen remodeling makes a mess, so we always install the floor last. Tile is our specialty, and we have so many fabulous designs and materials to choose from. It is best to use tile that is easy to clean and that complements your appliances.
Once we finish our work, we always clean up after ourselves. We guarantee the quality of our work, and we will make sure you are completely satisfied with your new kitchen before we leave.
Our contractors are trained professionals who are licensed in the state of Florida. They have years of experience in kitchen remodeling, and they are dedicated to building our clients their dream home room by room.
Nowadays, most families eat their meals in the kitchen. Kids have been doing their homework in this multipurpose room forever, and people who work at home often sit at the kitchen table all day. Our attention to detail and our experience with plumbing and design will let us create the best kitchen for you.
Other Services