Home Remodeling Coral Gables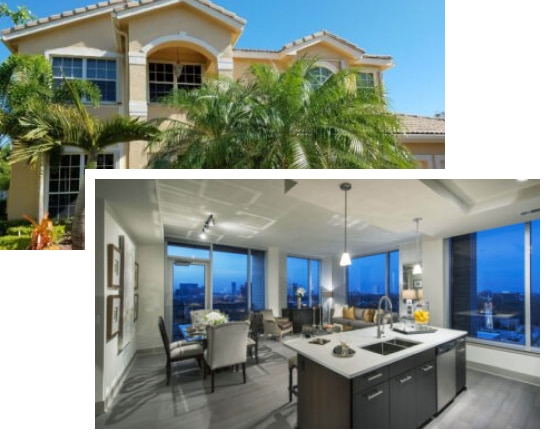 Your home is a reflection of who you are. It can convey a sense of self, echoing your tastes and personality. When you decide to remodel your home, whether it's recreating a vintage farmhouse kitchen or transforming your bathroom into a tranquil retreat, MT Construction Group is a trusted Coral Gables, FL remodeler that can help you. Our general contractor will design a space that thoroughly reflects your lifestyle.
Our remodeling services revamp homes into spaces that display functionality, durable designs, and high-quality value. We handle all facets of your remodeling with your complete satisfaction in mind.
Our general contractor will sit down with you and go over your goals and vision for your redesign.
We Offer a Comprehensive Range of Remodeling Services:
Our efficient and reliable remodeling project solutions include:
Flooring
Kitchen remodeling
Addition or removal of walls

Complete house renovation

New Construction
House painting or wallpaper application
indoors and outdoor
Bathroom remodeling

Addition of rooms
Custom remodeling projects

Custom remodeling projects
Whether you want to flip an entire house or update your kitchen flooring, MT Construction Group is your trusted home remodeling company in Miami. We have a long-standing reputation for providing high-quality customer service and work.
At MT Construction Group, we help transform your house into your dream home. If you want to renovate your house, flip a property, or more—our remodeling contractors in Miami are here to turn your vision into reality.
Miami home remodeling is not an investment you make every day. Since a newly renovated space takes time to design and lay out, it's essential that you contact an experienced professional that you trust. Our general contractor can provide a level of expertise and service that you can rely on.
Home Remodeling Contractors Miami
Your home is your peaceful abode. It is your personal sanctuary that keeps you safe and comfortable. For many homeowners, it is where they create life-long, happy memories with their loved ones.
Home remodeling in Miami can often be tedious, long-drawn-out, and challenging, but not if you choose us. Aside from renovations and remodeling, we offer many support services that make your experience stress-free and pleasant.
These support services can include:
Our team of expert home remodeling contractors in Miami works hard to ensure that the remodeling process goes smoothly as possible to provide a high level of client satisfaction. We do our best to provide an excellent experience for all our clients.
Purchasing properties specifically to renovate and sell them for a profit has proven to be a successful business model for many. If you own a property or have come across a property that seems like a good investment, remodeling and putting it back on the market is a highly lucrative business idea.
Cut Down on Maintenance Costs
Very few things last forever. At some point, things need to be restored or replaced due to wear and tear. For some houses, especially older ones, maintenance costs can start to be prohibitive.
If you incur high maintenance costs because of your leaky roof, cracked flooring, or leaky pipes, it may be time to think about remodeling. This kind of lasting investment is often cost-effective and can save you money in the long run.
Your Family Has Gotten Bigger or Smaller
If you have purchased a home and are happily expecting new family members, moving into a new, bigger house may not be feasible. However, it is possible to remodel your home to provide additional rooms. You can add a wall or another level to make spare rooms.
On the other hand, if members of your family have flown the coop, you can expand your house and create more space by removing walls, widening your yard, and just freeing up more space. You might be surprised at the ways you can change your house to reflect your family's needs.
If you have a bedroom that is no longer being utilized or extra unused space in your garage, you can productively remodel surplus space in your house. For example, you can add walls to the extra space in your garage and use it as a storeroom or even a home office. Repurpose a spare bedroom into a game room or a study. Remodel your backyard into an outdoor barbeque and dining area; the possibilities are endless!
Make your house work for you! You can even remodel your spare bedrooms into a beautiful and cozy little bed and breakfast or Airbnb. If you own a house next to a university, you could even remodel your house or spare room to rent out as an off-campus residence for students. A well-done home remodeling can fetch great returns on investment.
Over time an individual's needs and priorities change, so why should your property stay the same. Remodel your house to suit your priorities. As shifting properties may not always be feasible or desirable, home remodeling allows you to make changes to your property as required. Be it a large backyard, spare bedroom, a home office, or a walk-in closet; our contractors will renovate your house to cater to your needs.
By choosing MT Construction Group, you choose ease, comfort, and superior quality. All you need is an idea—just leave the rest to us. Our professional remodeling contractors in Miami will bring your idea to life.

Making your remodeling project exactly how you want it is our responsibility. Call us today to receive a free consultation!. We will do everything in our power to exceed your expectations while delivering the job promptly.

Miami Tile is South Florida's most trusted installation and home renovation company. Let our years of experience help you make your dream renovation project come to life.