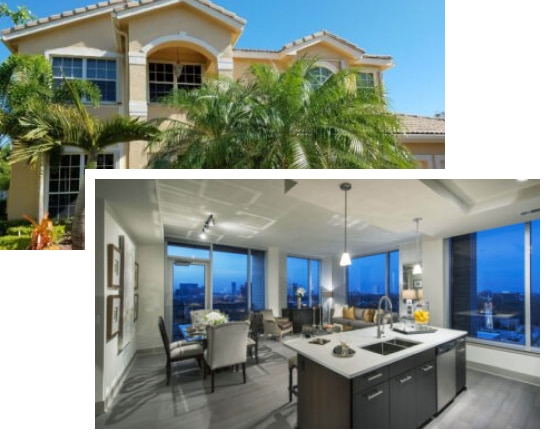 At Miami Tile & Renovation, we help transform your house into your dream home. If you are looking renovate your own house, or flip a property, our remodeling contractors in Miami are here to turn your vision into reality.

Miami home remodeling is not an everyday investment, and you definitely need a professional hand you can trust. Our team of professional home remodeling contractors in Miami will provide the expertise you can rely on.
We offer a range of different remodeling services to cater to the needs of our clients such as:
Flooring
Kitchen remodeling
Addition or removal of walls

Complete house renovation

New Construction
House painting or wallpaper application
indoors and outdoor
Bathroom remodeling

Addition of rooms
Custom remodeling projects

Custom remodeling projects
Whether you want to flip an entire house or just get your kitchen flooring changed, Miami Tile and Renovation is your trusted home remodeling company in Miami.
Your home is your peaceful abode. Home remodeling Miami can often be tedious, long-drawn, and challenging, but not if you choose us. Along with remodeling, we provide other support services as well, making your life simpler and hassle-free.
We offer a range of different remodeling services to cater to the needs of our clients such as:
Our team of expert home remodeling contractors in Miami ensures that the process of remodeling goes smoothly, is comfortable, as well as satisfying for you. We do our best to provide a great experience to our clients.
If you have a kid's bedroom that is no longer used or extra space in your garage, you can remodel and use the existing space in your house productively. Add walls to the extra space in your garage and use it as a storeroom, or your home office. Repurpose your spare bedroom into a game room or study. Remodel your backyard into an outdoor barbeque and dining area; the possibilities are endless.
Remodel your spare bedrooms, and you can start your own cozy little bed and breakfast. If you own a house near to a university, you can remodel your house or spare rooms and rent them out as an off-campus residence for students and start your own business. A well-done home remodeling can fetch great returns on investment.
Over time an individual's needs and priorities change, so why should your property stay the same. Remodel your house to suit your priorities. As shifting properties may not always be feasible or desirable, home remodeling allows you to make changes to your property as required. Be it a large backyard, spare bedroom, a home office, or a walk-in closet; our contractors will renovate your house to cater to your needs.
Home remodeling is a good idea if you live in a city like Miami. From an economic point of view, having your residential and commercial property remodeled has several advantages, including increased property value. From minor tweaks to a major revamp, renovation or remodeling can give your home in Miami, FL, a complete makeover. 
If you're looking to have your home remodeled, you should begin by researching qualified remodeling contractors in Miami, Florida. The contractor you choose to have your entire house remodeled is essential. They could play a critical role in how your property is valued in the market. Miami Tile and Renovation is a notable licensed general contractor in the Florida construction industry. 
Contact us today to go over some custom remodeling options for your home or business space. 
Four Reasons Why You Need To Remodel or Renovate
If you require a bit of convincing to have your home remodeled, you have come to the right place. Here are four reasons you should call a construction company to remodel or renovate your residential or office buildings. 
Increase in the resale value of your home
Even if you do not have any immediate plans to sell your home, you need to ensure that the value of your property remains high. Modular kitchens, new cabinets, stylish high-tech bathrooms, upgraded flooring, and improved interior designs help to increase your home's value. 
If your house looks outdated, it's time to make some improvements and catch up with the times. Professional contractors can work on your Miami remodeling project and make the required improvements to increase its resale value significantly. You can enjoy the enhanced features of your home, and when it's time to sell, it will be sure to get a good price.
Customize your home
When you hire remodeling contractors to work on your property, you'll get a chance to customize it as you please. You could add personal elements to the house or improve the laundry room, the family room, kitchen cabinetry. You can even construct a brand new room or you could modify parts or the whole of the house as you please. You could even change the house's layout to transform a room to a new function as part of the Miami home remodeling project. 
You can also install quality light fittings and a fireplace in your house if that's what you want. If you want to make significant changes to your house, call Miami Tile and Renovation today. We are a professional remodeling company that has created dream homes for countless clients in Coral Gables, Miami Dade County, and Fort Lauderdale. We also provide various other services, including plumbing, mold remediation, and other home repairs. 
Reduce maintenance costs
A highly-functional house requires less maintenance. If you upgrade your home by installing state-of-the-art appliances, you can reduce your maintenance costs considerably, which can help you save a lot of money. Some clients strengthen their roofs against natural disasters so they require fewer repairs after a hurricane. 
Contact Miami Tile and Renovation for home or business remodeling work in Miami Dade County. We provide interior and exterior remodeling services.
Brand new home
One of the benefits of a home remodeling project is that you could enjoy the feel of a new home without actually moving. So if you want to make some aesthetic improvements to your current house, you can turn to a general contractor in Miami and have the property remodeled or renovated. You can have the old construction demolished and have new construction built in its place, with a brand-new layout of the bathrooms, bedrooms, kitchen, and more. 
If you're considering a home remodeling project, connect with Miami Tile and Renovation. We are a general contractor in Miami, Florida, that provides outstanding services. Testimonials from our past clients attest to the quality work we can deliver. Contact our company today if you need help with a remodeling job in Miami. 
Miami Tile and Renovation
Miami Tile and Renovation is a company that provides construction management services in Miami. You can count on us to provide services, from home remodeling, bathroom remodeling, kitchen remodeling, and deck and patio work. Our professional team has been trained to finish the job in a timely manner and with utmost professionalism. Once we've surveyed your house, we will begin discussing your requirements and demands, based on which, we'll come up with a plan and a quote for the whole project. 
We have been lauded for our great customer service by many of our past customers, and our referrals stand witness to that. As soon as we begin working on your house, you will be kept up to date on the project's progress. We aspire to have constant communication with our clients so that they can trust us with their remodeling work.
Our Services
Kitchen Remodeling 

Bathroom Remodeling 

Patio and Deck remodel

Swimming pool construction and remodel

Flooring 

Painting 

Plumbing 

Backyard Work and Remodel

Window manufacturing 

Mold remediation
Frequently Asked Questions 
How to plan a home's remodeling project?
Before you hire contractors to have your house remodeled, you might want to do your research and come up with a plan and a budget. While the practical work of the remodeling would be taken care of by the contractors, you would be required to give them a rough plan on what you expect your new house to look like. So before you make the call, start by setting up a budget for the remodeling work. Then envision your dream house and see how you can achieve it 
Research some ideas, and look into their practicality. In a nutshell, come up with a detailed home improvement plan. Once you're worked out the basics, hire contractors to make it a reality. You should estimate a timeline for the project for the reference of the contractors. Try not to be unrealistic with your requirements. Once you've hired the contractor, ask as many questions as you want about the project. You should not be afraid to let them know what you want. 
What is the difference between remodeling and renovating a house?
Renovation and remodeling are quite different, although they are often used interchangeably. A renovation would refer to small tweaks or restoration of the existing structure. Meanwhile, remodeling may refer to constructing a brand new room or changing the layout of the existing rooms. 
For example, if you want to have your kitchen cabinets changed or improved, it could count as renovation. In contrast, a complete makeover of the kitchen could be called a remodeling. It consists of demolishing the existing structure and erecting a brand new one in its place.
By choosing Miami Tile & Renovation, you choose ease, comfort, and superior quality. All you need is an idea, and leave the rest to us. Our professional remodeling contractors in Miami will bring your idea to life. Making your remodeling project exactly how you want it is our responsibility, and we will do everything in our power to exceed expectations while delivering the job in a timely manner. Call us today to receive a free consultation!
786-602-0777