Home Remodeling Fort Lauderdale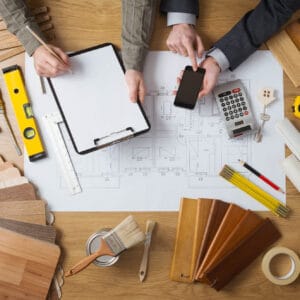 With so many people adopting a work-from-home lifestyle, and after more than a year of staying home, now is the time to start that much-needed home remodeling project you have been dreaming of. At MT Construction Group, we have the expertise and the designs you are looking for. Let us give you that sought-after space that will make your home function that much better.
Home Remodeling Process
Every remodeling process will have its particular challenges and timeline. However, it is essential to have a solid plan of action so that you do not have to spend money redoing anything that was done wrong the first time around, such as forgetting to install electrical outlets on a wall that has now been painted.
In general terms, you can expect that your home remodeling project will involve the following steps:
Determine What You Want Done
Start by knowing what will get done. If there is more than one area being remodeled, decide which one will have priority. Also, set a time to start. If your kids are away at camp during the summer, that may be the best time to remodel their bathroom and paint their rooms.
Set A Budget
There is no limit to what you can spend on a house. Between adding technology and selecting the most expensive finishes, your budget can jump through the roof. Take the time to come up with a number with which you will feel comfortable for the renovation, then add a buffer of 10% to 20% for unexpected contingencies. Your MT Construction Group home remodeling contractors can help you determine whether the budget you have to work with is realistic for the scope of the project.
Get Permits and Order Materials
Not having the necessary permits for the project can cause a huge delay in your timeline. As your home remodel contractors, we can get those for you. Ask us how long we estimate your process will take. Also, materials and specialty cabinets or furniture should be ordered so that everything will get to the construction site on time.
Demolition and Framing
If the space is already there, demolition may be required. If it is a new area, it may need to be framed. This may also be a good moment to add new windows and doors.
Plumbing and Electrical Go In
Before the drywall, all the work that goes on behind the walls needs to happen. Plumbing, electrical, HVAC ducts, and insulation are installed. Once all this is done, walls get drywalled and are sanded for a smooth finish.
Paint and Flooring
Your Miami & Tile Renovations home remodeling Fort Lauderdale contractors will decide whether it is more convenient to paint first or start with the floors. Then, cabinets and built-ins are installed.
Finishing Touches
Backsplashes are installed, walls get a final coat of paint, floors are sealed or grouted, light fixtures are hung, hardware is installed, and other touch-ups are completed. You are now ready to bring in your furniture and enjoy your new space.
Why should I hire a General Contractor?
You may think that if you supervise the remodel, you will save money. In real life, however, it may turn out that doing the project yourself may not only end up being more expensive, but it might also take longer, and if you do any work without the required permits, you may give yourself a very big headache.
No matter how you look at it, a remodeling project is time-consuming and complicated. You need someone who knows how to keep it on track and have it reach a successful ending. Your general contractor from MT Construction Group has the experience to prevent costly downtimes, saving you weeks or months. They also know how to work with subcontractors and when each needs to show up. They will negotiate with subcontractors and get you better rates, and they are knowledgeable about today's building codes making sure the job always passes inspection.
Home Remodeling Fort Lauderdale Trends
After a year of being mostly at home, people have embraced 2021 with vigor and the enthusiasm needed to plan remodeling projects. Home remodeling services have seen a surge in projects for this year, such as:
The Bathroom Oasis
People want a true sanctuary when thinking about their bathrooms. Items like heated floors and free-standing, sleek tubs are a top priority. Spa details become necessities with beautifully illuminated mirrors and automatic toilets with specialty toilet seats.
The Home Gym
If people cannot congregate in gyms the way they used to before the start of the pandemic, they still want to exercise, even if it is in the privacy of their own homes. Creating a dedicated gym space has become a trend this year.
Porcelain Tile
Large and extra-large format porcelain tiles are ideal to replace marble both on floors and countertops. They are easy to keep clean and need no yearly polishing as marble does. Their veining and finish make it difficult to distinguish between these tiles and a marble floor or counter while being much more budget-friendly.
Reconsidering the Open Concept
Although the entire open concept look is still a favorite, certain separation is required when people spend the entire day working from home. There is a need for a room where a door can be closed, and a business phone call can be answered without having to hear the kids yelling in the background.
More Outdoor Living
Extending your living space to the outdoors is something people are also looking to do after so many months at home. Whether you want a sunroom for more outdoor living, a new deck, or going all out and adding a new pool, MT Construction Group's home remodeling services will give you your ideal outdoor living area to enjoy with family and friends.
No matter how large or small your home remodeling Fort Lauderdale project is, the home remodeling services of MT Construction Group will build it for you. Give us a call today, we are ready to get started.