Kitchen Remodeling Miami
Ready to give your kitchen a makeover? Miami Tile and Renovation is at your service. We are a one-stop-shop for all your kitchen remodeling needs, from design to installation, from consultation to modern fixtures. We provide it all.
The kitchen is the most active place in a house; it is where a family makes many memories. It is a functional and intimate space. We understand the value that a kitchen holds in a home, and it deserves only the best kitchen contractors Miami. If you are looking for a premium, word-class kitchen renovation Miami, our company is who you want to call. We provide a range of top quality services like painting, kitchen redesigning, and remodeling.
Our team of expert designers can give you the kitchen of your dreams. Whether you want an open kitchen design, a classical kitchen plan, a European, or a modern contemporary design, we offer it all. Each house tells a story; it is a reflection of the people who live inside it, so let your kitchen tell your story. Hire our professional services for kitchen remodeling Miami and let Miami Title & Renovation to make your kitchen the star of your house.
Our kitchen remodeling Miami proudly serves the entire city. We are lauded for our prowess in design and functionality. It's always our aim to revamp your kitchen so it will be the next big thing in your home. Here at Miami Tile & Renovation, we consider your kitchen as the heart of your home. We don't just re-design your kitchen; we also aim to provide you with new fixtures that will help you prepare more hearty meals. Regardless if you want a Scandinavian, European, modern, contemporary, or classic look, we have all the products and skill to make it happen.
We make kitchen renovation hassle-free for you. All you have to do is give us a call!
Revamp Your Kitchen With Miami Tile & Renovation
Your home is not just a space, it is a feeling, and your kitchen is an integral functional and personal part of your home. The kitchen functions not only to satisfy your hunger, but also to soothe your soul. A luxury, spacious, and well-designed kitchen would also leave your guests starstruck every time they visit.
Kitchen remodeling can take the aesthetic of your house up a notch, and it can also save you a lot of maintenance expenditure. Since a kitchen is a high utility element of your home, regular wear and tear is expected. With wear and tear come ever-increasing maintenance costs of fixing leakages, damage to countertops or cabinets, damage to flooring, etc. Renovation is a one-time investment that can save you the maintenance costs and hassle for many years to come.
Whether you want to just change your kitchen countertop and flooring, or you want a complete kitchen makeover, whatever is your need, our team of experienced designers and kitchen contractors Miami are here to turn your vision into reality. For quality, efficient, and reliable kitchen remodeling services in Miami and surrounding areas, call us today!
Premium Custom Cabinets in Miami
Installing custom designed kitchen cabinets to match the theme or color scheme of your entire kitchen is the simplest and most effective way of glamming up your kitchen. Cabinets are essential in any kitchen, and who says that utility and glamour cannot go hand in hand? Use custom design cabinets as a style element to ace your home decor game. With the help of our professionals and a little bit of creativity, custom-designed cabinets can turn your kitchen into a work of art.
Everything in your house is a visual expression of your sense of style. Make a statement by getting custom-designed kitchen cabinets installed. Miami Tile and Renovation offers custom designing services for kitchen cabinets. You can pick the color, pattern, texture, size, material, etc. of your choice from the wide range of options that we offer.
Our kitchen contractors Miami deliver top quality kitchen cabinets, specially made to cater to your functional and aesthetic needs. We also provide professional cabinet installation services to make your life easier. Our aim is to create the kitchen of your dreams, and our excellent staff makes sure that it happens exactly how you envision it.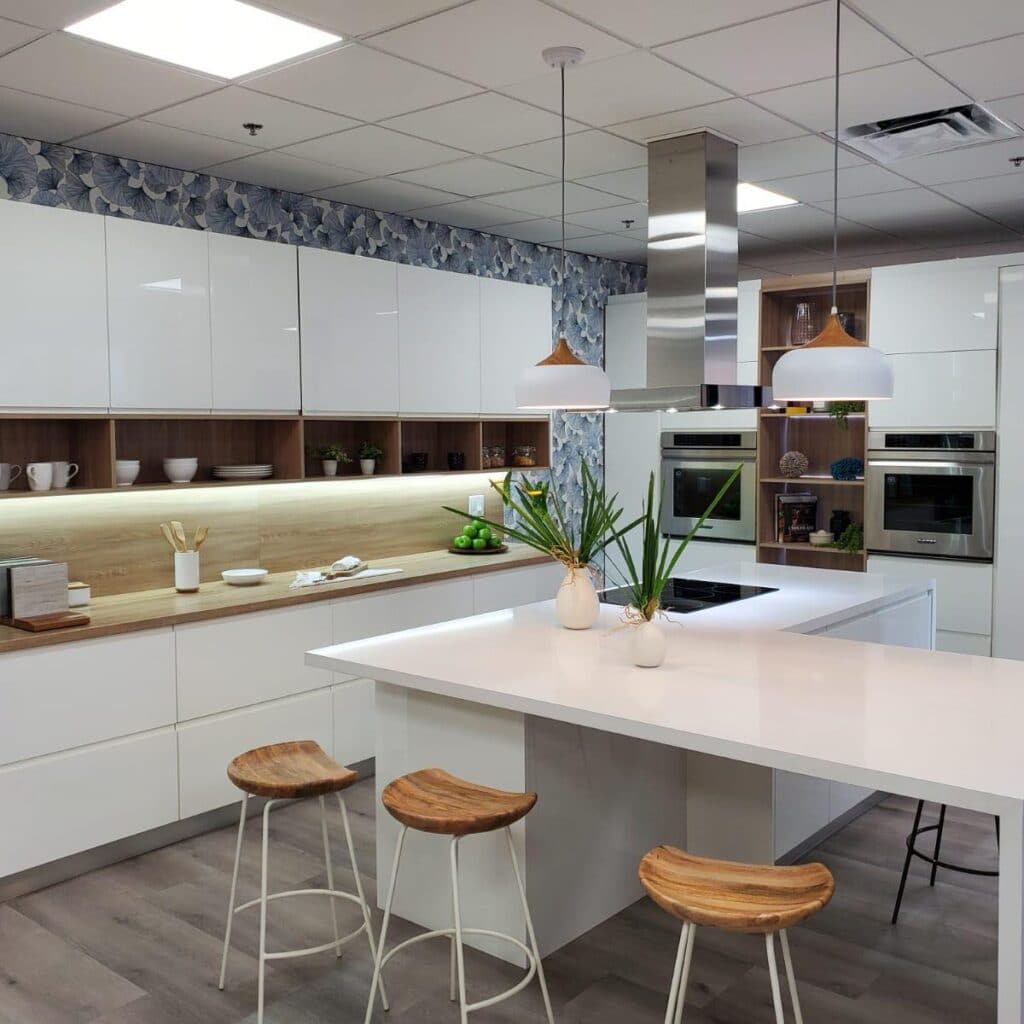 Why Choose Miami Tile & Renovation to Remodel Your Kitchen?
Your kitchen deserves the best. Miami Tile & Renovation guarantees professional, reliable, and time-efficient kitchen renovation Miami services, with the promise of world-class quality. Renovation and remodeling are significant investments, and we ensure that you get your money's value. Glamorous kitchens and satisfied clients are what we aspire for. We have decades of professional experience, and we assure you that with Miami Tile & Renovation, you'll be incredibly happy with your new kitchen. Call us today to receive your free consultation! 786-602-0777
The Best Kitchen Water Damage Repair by Our Sister Company 777 Restoration
Has water damage got the better of your kitchen? We understand the stress that a flooded kitchen can cause and therefore, we act quickly to minimize loss and damages caused by floods, plumbing disasters, and risk of moisture exposure. Our trained and experienced water damage repair team perform water leak detection services to identify the cause for leaks and floods. Our restorative process is second to none and we assure you as our valued client, that there is no job too small or too complex for us to handle.
Kitchen water damage repair in Miami is best managed by the professionals at 777 Restoration. We deliver the proper drying, dehumidifying, and cleaning methods to leave your interiors in immaculate condition. We encourage you to contact our restoration team as soon as water damage occurs. The sooner the flooded areas can be addressed, the better the outcome. The reputable team at 777 Restoration will manage every aspect of the restoration, including mold detection and prevention, so you can focus on what matters most. As leaders in water damage restoration services, you can rely on us to perform an inspection and deliver repairs you can trust. Call our water damage team today at 786-602-0777