Patio and Deck Builders Miami
The contemporary patio remains the best way to enjoy the outdoors, from relaxation to entertainment. Built to maximize outdoor space, the patio is not restricted to a single design. This makes it a versatile build that can be fully customized to satisfy your lifestyle needs.
Patios are great additions if you require little maintenance and an attractive finish that adds value to your property. From the installation of stonework to sold wood patios, our design experts provide a resilient build to last a lifetime. Miami Tile & Renovation creates high-end patios to compliment the esthetics of your Miami property. We can modernize flooring and add attractive features, including a functional outdoor kitchen to impress your guests.  
At Miami Tile & Renovation, we can bring the entertainer's dream to life. Our exceptional skills focus on custom patio creations that are beyond standard builds. For Miami homes and businesses, we create premium patio decks along with breath-taking gazebos, pergolas, and even outdoor kitchens. As the best patio and deck builders in Miami, we encourage you to consult with our team to bring your premium design builds to life.
Call today to get your free patio estimate! 786-602-0777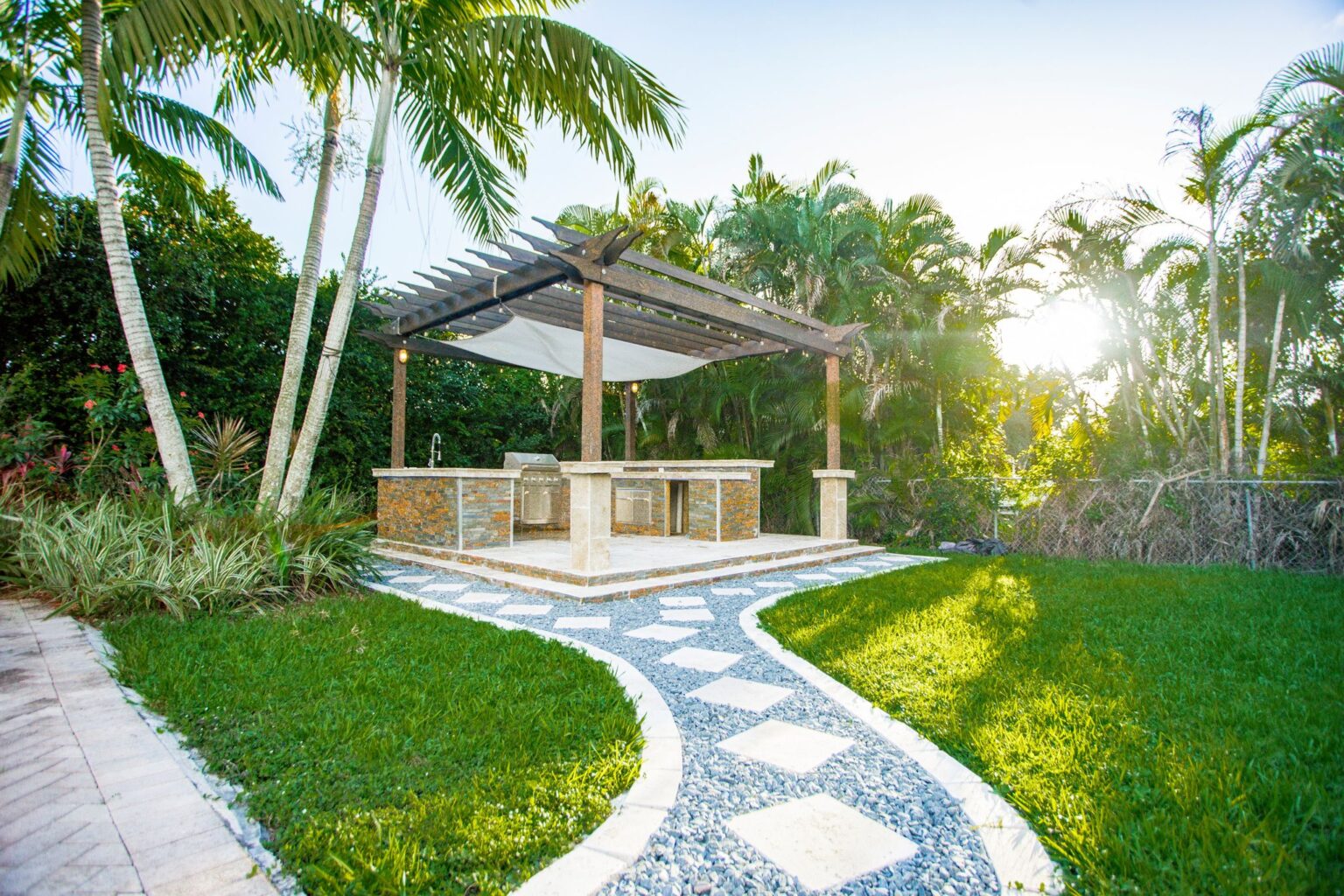 Why Choose Our Modern Patio Builds
The modern patio is a reflection of your design preferences, your character, and your lifestyle. Miami Tile & Renovation is here to transform your ideas for new patio builds into a reality. We help modify outdoor areas with a versatile patio that is seamless and beautiful. We can create patios to complement the décor and theme of your property along with versatile patterns and materials from wood to stone.
Along with the beauty of our patios, we ensure our finished outdoor areas are durable. Miami Tile & Renovation introduces lasting materials and unmatched craftsmanship that contribute to installing an esthetically pleasing patio. The contemporary patio reduces routine maintenance that would be performed on a garden or lawn. It is a perfect enhancement that adds value and unbelievable beauty. Our skilled and experienced patio builders are prepared to deliver an exceptional standard and unmatched quality in patio build services. Speak to one of our patio builders today! 
Invest in a Beautifully Designed Custom Deck
Patios and decks are commonly installed because of the incredible design esthetic and the functionality these features offer. For the Miami home, a custom deck is a valuable and essential addition. It creates an immaculate appearance and, along with our high-end design, will introduce sophistication to any space.
Miami Tile & Renovation deck builders are knowledgeable and experienced in managing fully customized deck projects for residential and commercial properties. Our goal is to introduce a practical and appealing design to complement a modern lifestyle.
A deck is a great way to finish the property and create a natural-looking extension where you can entertain guests or relax outdoors. Combine your deck with a patio, and you can spend your time outdoors all year round. Decks are built and installed in a variety of styles, sizes, and finishes. It is not only an attractive addition for the property but a practical one too. Decks are easy to maintain, making it one of the best choices to modernize the property. Miami Tile & Renovation can build unique pool decks, entertainment decks, and many more diverse styles.
Call today! 786-602-0777
Premium Deck & Patio Builders in South Florida
From perfect patios to dashing decks, speak to our  Miami Tile & Renovation team to benefit from our expertise and fine finishes. We are dedicated to bringing premium design services to Miami and surrounding areas. Along with our patio and deck builds, we always adopt innovation and combine our skill and knowledge with our build expertise to create your dream build.
Combine your newly installed patio with a striking outdoor kitchen, or finish your modern deck in solid wood with natural charm. No matter your design requirements, if you can dream it, we can achieve it. We ensure that your new installation is fully customized to meet your preferences that will provide many years of enjoyment and beauty. Entrust the install of a deck to our professional deck builders. Call today to speak for a free estimate!