Pergola and Gazebo Builders Miami
Experience outdoor living and entertainment at its finest with MT Construction Group pergola design and build services. Pergolas have become a popular addition for the home providing extended living space and exceptional value. MT Construction Group specializes in Pergolas' design and build for residential & commercial clients in Miami and surrounding areas.
Our pergola construction is unmatched in quality and includes the finest detailing and selection of materials to withstand environmental conditions. Designed to complement your property and your lifestyle, our pergolas allow you to spend time enjoying the outdoors under an exquisitely designed extension. It provides light shade against the heat of the day and striking visual beauty. An impressive pergola creates a seamless finish across your landscape.
If you want an incredible pergola design in Miami you should put your trust with MT Construction Group. We have extensive experience in building the most beautiful pergolas. Our enhancements are built to last and include a protective coating to withstand extremes in temperature and maintain its sleek, attractive appeal. We help you add character to your property and functional space to enjoy the garden with design ingenuity and unparalleled craftsmanship. For the impeccable design and the esthetics of pergolas in Miami, please speak to our expert pergola designers today!
Call today for your free pergola consultation! 786-602-0777
Distinct Pergola Design for Your Home
A diverse pergola range awaits with the experienced and expert design team at MT Construction Group. With years of skill and the professionalism of our pergola builders, we create fully customized pergola enhancements. We specialize in building your pergola from scratch, so the style and finish of your extension best complement your ideas and expectations. A wood pergola is a popular build owing to its charm and its compatibility with any style property.
MT Construction Group uses a variety of excellent wood materials to bring your design esthetic to life. We will provide an explanation of the features associated with each type of material to successfully build a lasting pergola. Our trusted pergola designers in Miami focus on the finer details and craftsmanship that leave you with outstanding artwork. Pergolas can be designed in wood, fiberglass, and a variety of durable materials to enhance and add value to your home.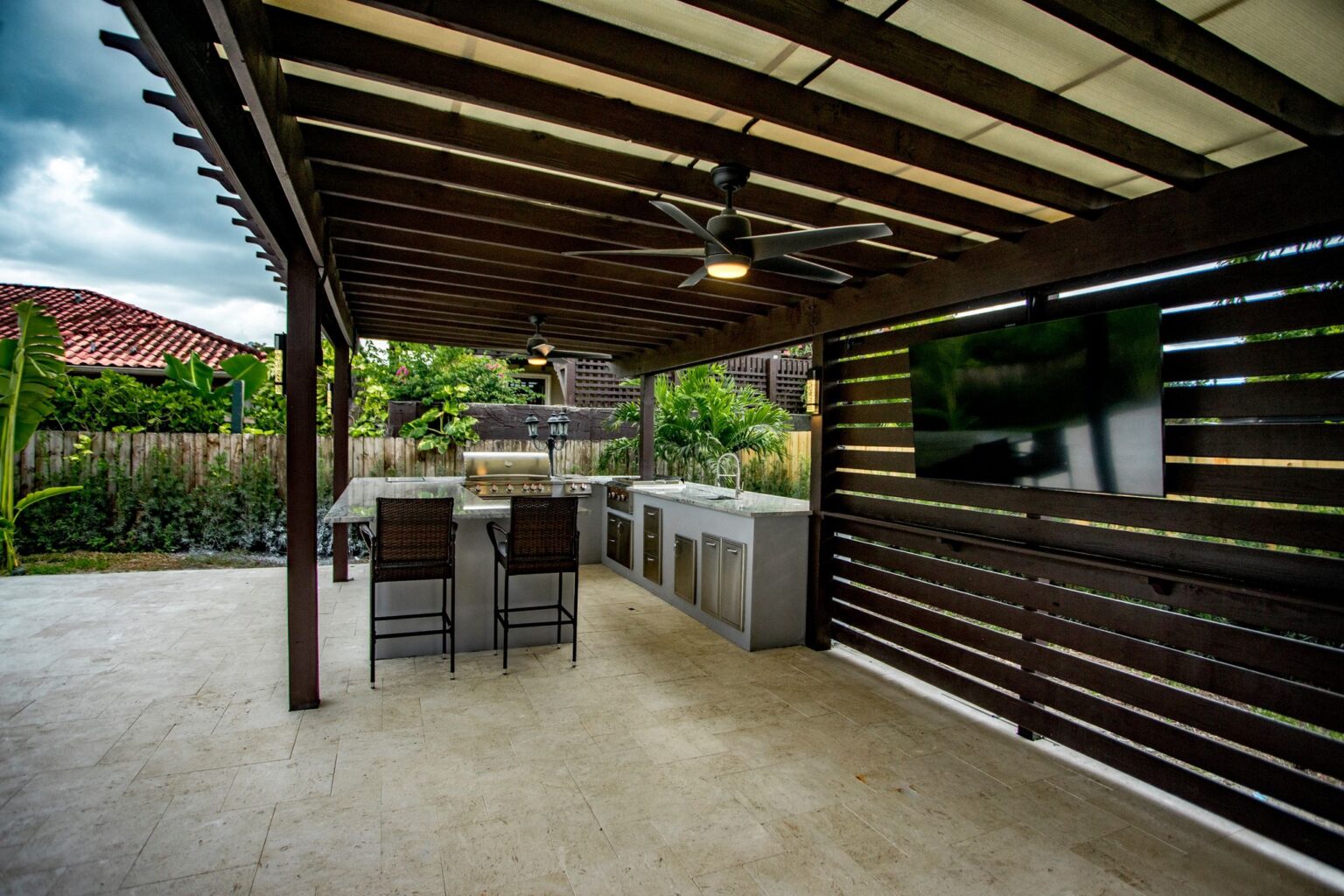 Custom Gazebos Builders Serving South Florida
The gazebo is a truly magical addition to any landscape. Available in a range of breathtaking designs, the gazebo creates a tranquil space for the garden enthusiast and a sheltered feature for the avid entertainer.
Gazebos differ from pergolas in that it is built and installed anywhere on your property. A pergola is attached to the building itself. The gazebo is a simple and valuable way to provide shelter against the heat of summer and warmth in the heart of winter. Your gazebo is easily designed with a full enclosure or transparency, allowing you to experience the outdoors in beautifully sheltered features.
What makes the gazebo so special is its ability to blend into any outdoor landscape. It always creates an eye-catching feature that is suitable for a small or large property. MT Construction Group has been designing and creating gorgeous gazebos with exceptionally crafted finishes for many years. Our experience and attention to detail are simply unmatched in quality and beauty. For the custom creation of an authentic gazebo, consult with the MT Construction Group team. We are here to provide the specialized finishes, durability, and craftsmanship to stand the test of time.
Call us today to speak with one of our gazebo experts! 786-602-0777
The Finest Pergola and Gazebo Design in Miami
MT Construction Group is recognized for our pergola and gazebo design and build capabilities. We have been serving Miami and surrounding areas for more than a decade and consistently provide an impeccable standard of workmanship on every project. Whether you are looking to extend your indoor and outdoor space with a pergola or immerse yourself in nature with a gazebo, our design specialists can make your ideas a reality.
From the moment we manage your project, we determine the best material, compatible design, and lasting finishes that not only look beautiful but add immense value. Speak to our design team at MT Construction Group for the premier standard in pergolas and gazebos. We bring esthetics, durable features, and exceptional workmanship to every project we work on. Contact us today to get a free consultation!